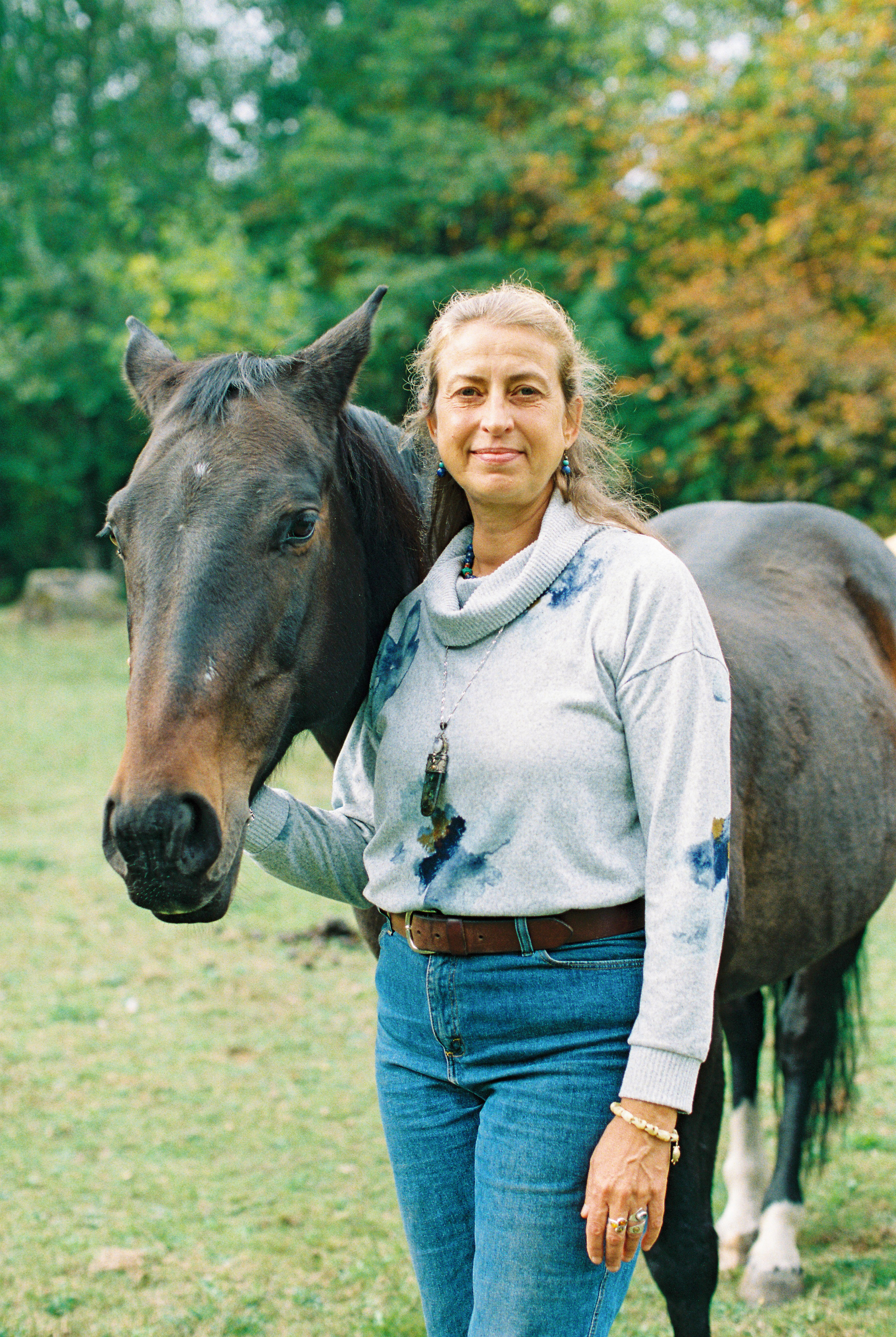 Hello! My name is Ulrike.
I am passionate about supporting women, who feel disconnected from themselves and from the Sacred, to transform self-limiting beliefs resulting from past trauma, abuse, or neglect so they can feel safe, confident, and more connected to their intuition and their own sacredness. 
I was born and raised in Germany and I lived in Paris, France, for a few years until the pristine beauty of Mother Nature called me to British Columbia in 1996.
My personal experience of birth trauma and childhood abuse and all that this entails later in life led me to try out many different means and modalities in order to heal and grow: yoga, counselling, meditation, self-help books, support groups, horses, somatic therapy, energy healing, psycho-therapy, tantra, breathwork, shamanism... And then I studied those modalities that I found to be most helpful in order to deepen into them, and they became my way of life. 
My credentials are included under "My Modalities" below.


Working as a support group facilitator, peer counsellor and integrated bodyworker helped me understand that my true passion is to share this wisdom with women who are healing from similar life experiences. Soon, activating the Healer Within through one-on-one session no longer seemed enough and I created my signature program, a yearlong training in Practical Animism that combines ALL that I have learned over the course of my life, from yogic teachings to shamanic rituals, from self-inquiry to embodiment practices.

Moving Online
For years I taught this program only in person to small groups, but growing demand and finally the pandemic encouraged me to move these teachings online so they are now accessible to anyone anywhere at any time.

Breaking It Down
For many, committing to a full a year of intense transformation is not an option. So, I have broken the program down into a series of workshops of different lengths that build on each other. You can choose workshops that are steeped in shamanic practice to communicate with the realm of spirit, or those that are more about connecting with the natural world through the elements without the shamanic component. And all of them offer the option to come together in person to deepen your healing journey with the horses.

Trauma-Informed
While all workshops focus on personal and spiritual growth, and teach self-healing and self-reliance, one program has been specifically designed to support women who have suffered trauma to the point of feeling unsafe and disconnected from the body: Heal The Wounds Of The Feminine. This program is only offered with one-on-one support and you can find it under "coaching".
For more information on the programs and workshops offered online, please select "All Courses" above. For any questions you may have, please contact me directly.



My Modalities

Shamanism has opened me up to connecting with the non-human and non-material worlds on a very deep level and I live an animistic way of life. I apply shamanic principles in my healing work through earth-honouring, nature-based rituals. I began my first apprenticeship in a North-European animist tradition in 2008 and was initiated "shaman" in 2012, though I don't use this label for myself. I'm regularly taking further training with international teachers in ancient Germanic and Norse practices.
Bodywork was the beginning of my formal work as a healer. I studied massage at The Healing Bodywork Centre in Vancouver and completed in 2007 with a Certificate in Integrated Bodywork, which combines Swedish massage with basic lymphatic drainage, reflexology, Shiatsu, and Polarity. Later that year I was initiated into Reiki in the Usui Reiki tradition. For my bodywork offerings, please visit my sister site at KaleidoscopeHealing.com.
Peer Counselling is the foundation of everything I do. My ability to create a safe container for another's healing and empathic listening skills are the framework for all other healing modalities I use. I obtained the Certificate in Peer Counselling from the University of British Columbia in 2007 and deepened into Solution Focused Brief Therapy (SFBT) and Mindfulness-Based Cognitive Therapy (MBCT) as my primary approaches. I have been facilitating peer support groups for many years and volunteered with S.A.R.A., a non-profit society, supporting survivors of childhood abuse and sexual assault.
Being Priestess of the Goddess provides a lovely balance to the more linear "masculine" structure of the other modalities. My shamanic practice is steeped in the mysteries of the Divine Feminine. I was ordained Elder Priestess of the 13th House Mystery Tradition in 2014 and offer A Year And A Day priestess initiations through group training and individual mentorships
Horses have played an important role in my life since earliest childhood. My equine family consists of two generations: the matriarch is 19, and the joyful "teenager" is 7. I've trained in Equine Facilitated Wellness with Chiron's Way in Maple Ridge, as well as Equine Assisted Learning with The Equine Connection Counselling Services in Vernon, BC. I'm partnering with my horses as healers and cofacilitators at a private horse farm in Hope, BC.
Yoga has been the foundation of my personal practice since my mother introduced me to Hatha in the 1970s. Yoga's gentle yet profound healing capacity has always helped me work through my own issues in an embodied way. In June 2016, I completed a certificate program in Therapeutic Yoga for Trauma, Resilience and Emotional Well-Being at Langara College in Vancouver and I'm happy to include Trauma-sensitive Yoga in my holistic approach to healing as a beautiful embodiment practice.
Tantra has had a profound impact on my personal life and was my first initiation to the Goddess. One of my esteemed teachers is a Yogini of the Kashmir Shaivism and Vedanta traditions and heir to three ancient lineages transmitted from woman to woman since the origins. Over the course of four years of studies, I have been initiated into the mysteries of Kashmir Shaivism and been attuned to three of the ten Mahavidias (goddess energies): Kali, Chinnamasta, and Shodashi. I have also studied Tantra for Sexual Healing with a Western instructor of neo-Tantra who combines Tantric and Taoist practices. Traditional Tantra as I apply it in my healing processes is the Yoga of Presence , the art of being fully aware of all sensations, internal and external, of being sentient in this moment, because the here and now is all there is. Tantra is also the ancient science of Yoga . It has mapped out the energy body, including the Chakra system. 
Forest walks keep me grounded and help me "reboot" my brain. I often meet with first-time clients in nature for a "walk-and-talk" while getting to know each other.
I live in the small town of Hope, BC, a charming little community within the ancestral, traditional, and unceded territory of the Coast Salish nations, at the confluence of the Fraser and Coquilhalla Rivers, nestled between the Coastal Mountains and the Cascade Mountain Range, surrounded by some of the most beautiful and dramatic BC wilderness, perfect for outdoor healing rituals and ceremonies.